Pamela Fox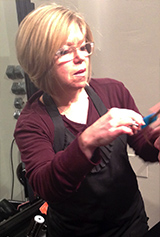 Pamela Fox has been a successful stylist and owner of Fox Hair Inc for over 20 years. She loves providing the guests at Fox Hair with top quality hair services along with great music, fresh flowers, and a welcoming fun environment.
Her personal style can best be described as sleek and modern with a casual feel. She draws her inspiration from modern art and design, street fashion, fashion magazines, nature, and music.
Pamela offers services in Cuts, Color, Styling, and Keratin Treatments. She is also a certified Ouidad Stylist. She is passionate about technique and strives to stay current. This has led her to years of continuing education. She shares this education with her staff and clients, helping them to create the best looking and healthiest hair possible. She believes that there are no limits when comes to improving one's skills, and is growing as a stylist. Her clients are always impressed with her consistency and attention to detail. She takes pride in making her client's hair-service special every time.